There's been a slew of activity around crypto credit cards.
Visa, Inc. (V) recently announced that crypto-linked cards accounted for $2.5 billion in payments in its fiscal first quarter of 2022.  
"We are also providing on-ramps for crypto players creating connectivity with fiat economies. There are over 65 crypto platforms and exchanges that have partnered to issue Visa credentials. This quarter, Visa credentials in crypto wallets had more than $2.5 billion in payments volume, which is already 70% of the payments volume for all of fiscal 2021, " said Alfred F. Kelly, Jr. Chairman & Chief Executive Officer, Visa. 
Mastercard reportedly announced a Coinbase partnership with the exchange new NFT marketplace. Watch the video above to find out what's driving all of the activity.
This rise in bitcoin and crypto credit cards is not surprising to Matthew Sigel, Head of Digital Assets Research, at VanEck.
The above interview is part of TheStreet's FREE webinar: Beyond Bitcoin and Metaverse: Crypto Categories Investors Should Know, presented by VanEck. The extended conversation helps investors navigate the crypto categorization schemes that include: store of value, the Metaverse, DeFi, infrastructure applications, smart contracts, and more.
WATCH: Beyond Bitcoin and Metaverse: Crypto Categories Investors Should Know – FREE Webinar
Editor's Note: The webinar was recorded on January 28, 2021.
Related: Sorting Out 12,000 Coins In the Crypto Ecosystem
About the Webinar Panelists | Matthew Sigel, VanEck and Bob Lang, Action Alerts PLUS
Video Transcript:
Bob Lang: We've seen a flurry of partnerships between companies like Mastercard, Visa, American Express, with cryptocurrency Giants. What's driving all this activity?
Matthew Sigel: What's driving the activity among the credit card companies to release Bitcoin credit cards and other crypto credit cards is consumer demand. So consumers are sick and tired of unaccountable unelected officials taking a large proportion of their savings, whether that's the banking sector or whether that's web too. So they're asking for these products, and in return, the market is providing them. And we think that's a big reason why crypto volatility, specifically Bitcoin, is probably set to fall over the coming years. The early adopters of this technology were retail investors who were more volatile in their trading strategies. As the more sticky, institutional buyers come in, sovereign entities like El Salvador, which declared Bitcoin legal tender, corporations who now own more than 1% of Bitcoin outstanding, and the next leg will be these micro-payments, credit card rewards, gaming, that will form the base of the pyramid, a consistent source of demand, tiny pieces of Bitcoin being bought by everyday people who are asking their financial institutions to provide products like these Bitcoin credit card rewards. So we're hugely excited about that. We're trying to do some work on tracking the wallets associated with these credit cards so we can begin to size and scope how big the demand will be. But it's a key linchpin in the thesis that Bitcoin volatility should fall over time.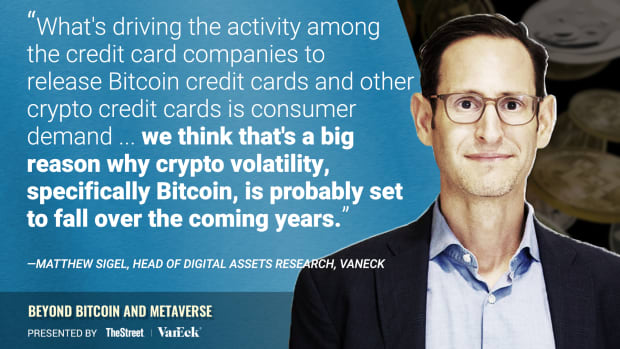 Bob Lang: It's a good move for consumers, I think. Mastercard recently partnered with Coinbase for the crypto exchanges' upcoming NFT marketplace. What could this mean for all the players as well as users? And could we see more partnerships like this down the road? 
Matthew Sigel: NFTs really just prove the ability to make digital items scarce. The original, the killer app, to demonstrate that utility for the marketplace was art, profile pictures, you know, files of digital art. This year, we think that utility will broaden out to include sports ticketing and concert ticketing, along with gaming applications. So in the case of ticketing, what if the courtside NBA ticket that you bought also came with a 10% chance of dinner with one of the players after the game? That's the type of additional goods and services that can be bundled into an NFT, connecting the digital world with the real world. On top of it proving digital scarcity, unlocking a series of benefits for ecosystem participants. It's the same type of model that these cities, like Miami, are trying to exercise with their city coins. If you own enough of the coin, you might get access early to say a museum opening or a park. And in that way, these cryptocurrencies really reward early participants, large participants who have conviction, and incentivizes them to do good and avoid wrong. And NFTs will enable that type of permission technology solution and bring a lot of value to consumers over the next year. 
Watch | More FREE webinars on TheStreet and our partners at VanEck:
Editor's Note: TheStreet's Zach Faulds produced this video.